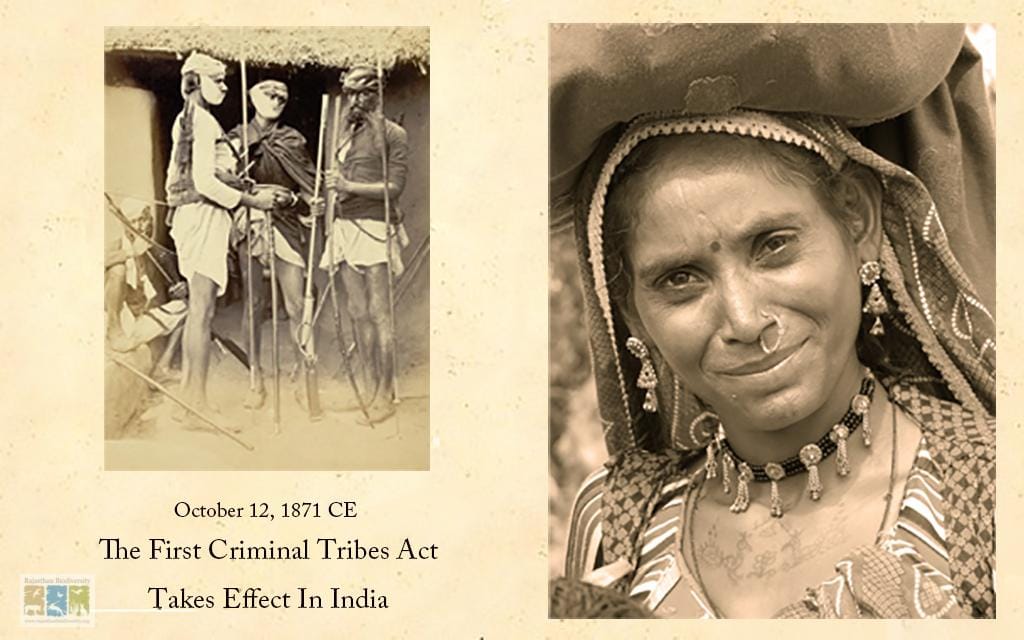 Colonel Kesri Singh, in one of his books  (One Man and a Thousand Tigers published in 1959), mentions Nathu Bawariya, a  traditional tribal hunter from Ranthambhore, who aided him in tracking a "troublesome tiger", and apprised him in detail , of the purported medicinal benefits of different kinds of bushmeat. This is the first instance of a traditional hunting tribal being written about in the same context as Ranthambhore and it's tigers. Whilst mentioning him, Col. Kesri Singh also described the long history of Nathu's tribe in Ranthambhore, and their unparalleled knowledge of wildlife and junglecraft.
It was perhaps with Col. Singh's assistance (he did manage the Shikarkhana of the erstwhile princely state of Jaipur after all), that Nathu's son Mukan was employed in Ranthambhore as a forest guard. Mukan was quite possibly the first Bawariya to directly join the mainstream by working for a government agency. However, steady employment and accountability still being relatively alien concepts, Mukan eventually 'sold' this job for a pittance. For just a few rupees, Mukan had the paperwork of his government job changed, and handed them over to an opportunistic local. The latter was in fact, a wily upper caste man from the same village named Kajod Singh. However, whilst employed as a forest guard,  Mukan curiously started using the surname 'Mogiya', instead of 'Bawariya',  the name of his father's tribe. There is a long and complex history behind this change.
Although 'Mogiya' and 'Bawariya' refer to the same community, there are many painful secrets and fascinating stories behind the use of these two names, which are buried only in the hearts of the people of this tribe. The use of these names has historically been dependent on government policy.
The British Raj, under the Criminal Tribes Act – 1871, placed  12 communities in  Rajasthan on the list of criminal tribes – Mina, Bhil, Bajaria, Kanjar, Sansi, Banjara, Bagaria, Nat, Nalak, Multani, Bhat  and Mogiya. It is said that the Kingdom of Mewar (Udaipur) first gave the name 'Mogiya' to  select Bawariya tribesmen. This is because some Bawariya tribesmen assisted the ruling house in quelling an insurrection led by Bhils or Minas (there are differing accounts).  The Mogiyas were thus considered close to the ruling house of Mewar. According to George Whitty Gayer's 1909 book, Lectures on some criminal tribes of India and religious mendicants, the Maharaja of Mewar declared in a durbar that the loyal Bawariya tribesmen, "were to him as precious as the Moongas i.e. coral beads of his necklace", and the same select tribesmen were then referred to first as 'Moongias', and then later 'Mogiyas'.
Following their listing as one of the 'criminal tribes'  under the Criminal Tribes Act – 1871, the young men of this tribe began using the surname 'Mogiya', in order to avoid facing the brunt of this discriminatory law. Around 1947, there were 127 tribes that the British kept under the ambit of this draconian law. Back then, the population of these tribes would have been approximately 1 crore 30 lakh (13 million). Stories of the indignities this law subjected these communities to are eye-opening, for example, the men were compelled to report to the nearest police station every week to register their presence, and if they were found outside of their designated areas, the full force of the law was brought down upon them.
India is a unique country with several castes, communities and creeds. Almost every individual is confined to the boundaries created by these divisions in different ways.  At present, such identities are assumed at birth. These identities may have once been related to occupation, which were first hereditary, and then evolved into distinct identity groups altogether.
In 1952, on the recommendation of the United Nations Committee on the Elimination of Racial Discrimination (CERD), India finally emancipated these 127 tribes from an outdated colonial schedule, and they were henceforth known as 'Denotified Tribes'. However,  it was quite like scraping the top layer off a glued sticker, for there is still some sticky residue at the bottom that is very difficult to get rid off.
Mukan Mogiya's family has a rather unique association with Tiger Watch Ranthambore. While one of his sons Govind served on our anti-poaching unit, our organization also caught two of his other sons, Kalu and Bhajan for poaching tigers and leopards, in collaborative anti-poaching operations with the Rajasthan Police. At the same time, 15 children from this family have been educated in our Mogiya Education Program (MEP), a relationship which continues to this day.
It was one of these children, an older boy, who suddenly declared one day that if he got some money,  he intended to change his surname from 'Mogiya' to 'Bawariya'. I thought that this might be an effort at self-respect or individualism, but on the contrary, he responded that Mogiyas belong to the 'Backward Classes' (OBC) whereas Bawariyas are included in the 'Scheduled Castes' (SC) and are thus given greater priority when it came to free rations, education and employment. Therefore, reverting to 'Bawariya' two generations later was a beneficial move. He thus reverted to his great-grandfather's surname and identity, by bribing a local government official with a mere Rs. 2500. Today, most of the children enrolled in the MEP have started using the surname 'Bawariya' again instead of 'Mogiya'.
It is ironic that whilst people in villages do not distinguish between 'Bawariya' and 'Mogiya', the government considers them two distinct identities. In the recent past, researchers from the Anthropological Survey of India came to Tiger Watch to study the Mogiyas, believing them to be a distinct tribe they had ignored till now.
In our 15 year experience of operating  the Mogiya Education Programme, which included a dormitory before the onset of  COVID 19, it became evident on many an occasion, that not only are the Mogiyas looked down upon by  upper castes, but they are also looked down upon by communitites considered a part of Dalit society ( such as the Bairwas etc.)  Equally revealing was how some Mogiya students refused to eat, drink, and live with students from similar communities such as the Kalbelias and Bhopas, whom they considered untouchable. Today there are 352 nomadic and denotified tribes in the country, whose population is approximately 10-11 crores, they struggle to stay connected with their traditions, and are disenfranchised. The government is making an effort, however, all that is required for such tremendous change is not easily available in this resource-deficient country. Yet, where else can one get their community identity changed for a paltry sum of 2500 rupees?
Fortunately for the Ranthambhore Tiger Reserve's wildlife, the younger generations of Nathu Bawariya's family have now forgotten their traditional hunting skills, and acquired a formal education, along with identity certificates as a result of a cleverness far more reminiscent of their grandfather's nemesis Kajod Singh. Today, they will not be duped by opportunistic locals, but in all likelihood, will make the government dizzy.
This article is based on factual information, and personal observations of 4 generations of a Bawariya/Mogiya family in the vicinity of the Ranthambhore Tiger Reserve.
References:
Raj and Born Criminals Crime, gender, and sexuality in criminal prosecutions, by Louis A. Knafla. Published by Greenwood Publishing Group, 2002. ISBN 0-313-31013-0. Page 124
Draft List of Denotified Tribes, Nomadic tribes and Semi-nomadic tribes in India. Government of Rajasthan. National Commission for Denotified, Nomadic and Semi-nomadic tribes – Ministry of Social Justice & Empowerment
Lectures on some criminal tribes of India and religious mendicants By George Whitty Gayer. Published in Nagpur – 1909
Authors:
Dr. Dharmendra Khandal (L) has worked as a conservation biologist with Tiger Watch – a non-profit organisation based in Ranthambhore, for the last 16 years. He spearheads all anti-poaching, community-based conservation and exploration interventions for the organisation.
Mr. Ishan Dhar (R) is a researcher of political science in a think tank. He has been associated with Tiger Watch's conservation interventions in his capacity as a member of the board of directors.
हिंदी में पढ़िए